Top Social Media Platforms & How to Best Leverage Them

Social networks are one of the fastest-growing industries in the world, with a projected annual growth of 25% over the next 5 years. Social media marketing increases your brand's awareness. 63% of buyers who search for houses online are more likely to use ones with an informative social media presence. Not just brand awareness, social media also has the power to increase customer loyalty. 71% of consumers who received a quick response on social media would recommend the service to others too.
Having a social media presence without the right strategy and plan can be just as damaging for your business as no plan at all. You need to set goals, know and understand your target audience, measure, and test. You have to continually analyze your social media strategy to understand how effective it is. Engage with your audience, find out what works and what doesn't.
According to statistics, these are the Top 15 Social Media Platforms with the highest users: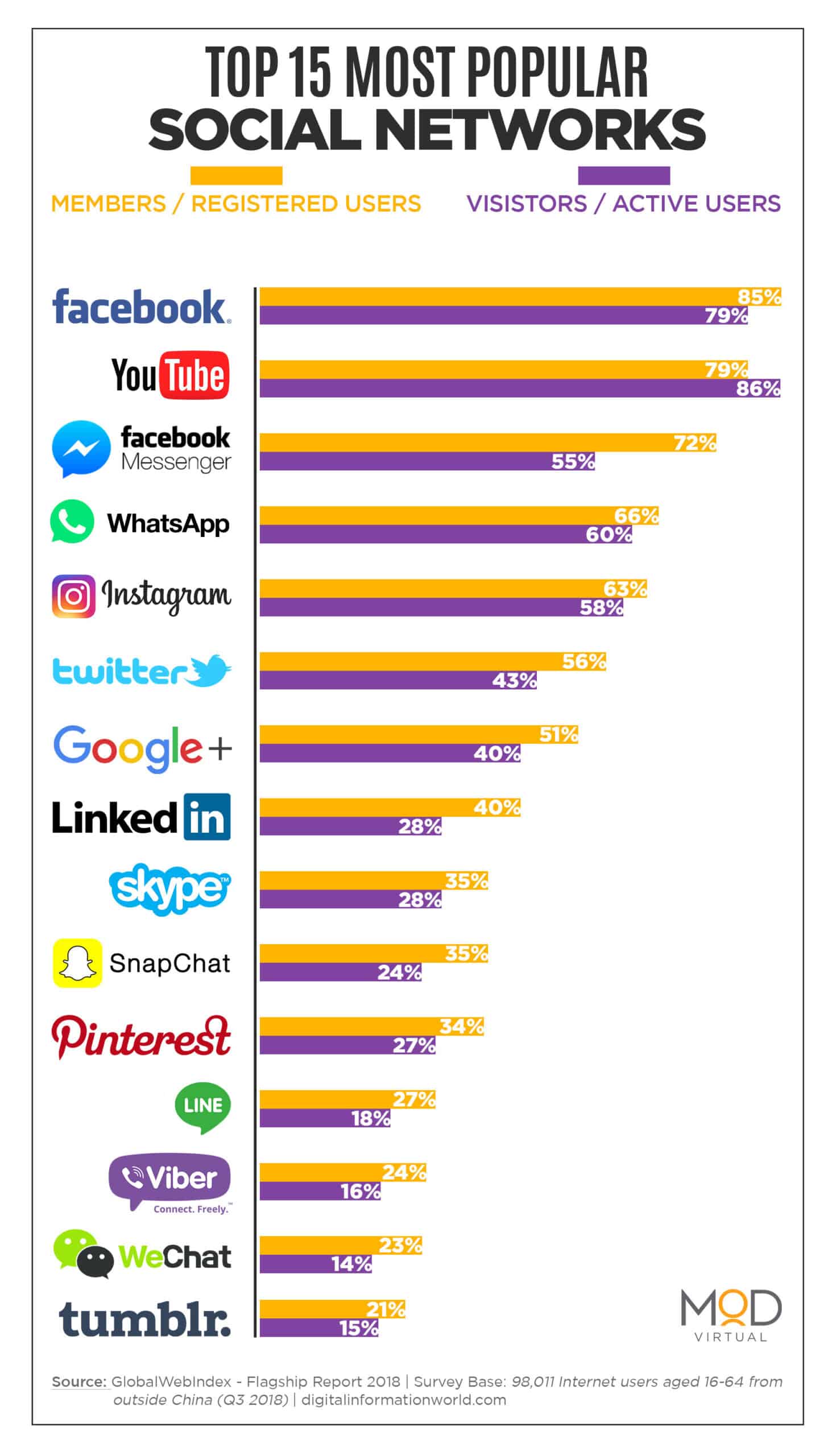 This information should be taken into account as you plan out your social media strategy.
Now that you know which platforms have the most followers, how do you utilize them? Each platform requires different strategies as each one has different focuses. For example, what kinds of photos are you posting on your Instagram account? Are you utilizing video marketing for YouTube?
There are also some universal strategies that work across all of them, such as engagement. How are you reaching out to your audience? Do you respond to comments and questions?
Just remember to do the following:
Be authentic. Let your personality shine through across each social network you're on. It's a great way to open a dialogue with a client before they ever pick up the phone.
Don't forget about video. 45% of people watch more than an hour's worth of Facebook or YouTube videos a week. YouTube videos also improve your website's ranking in search engines like Google — a common place where home buyers and renters start their search for a new home.
Don't ignore your past/current clients. Just because you've already closed the deal, it doesn't mean that you can't get more potential business from your current and past clients. Invite them to interact with you on social media. Ask them to write reviews and encourage them to share your content. Referrals are the best way to find business and who can be better at sharing than those who have had remarkable experiences with you?
Don't ignore negative feedback. You will inevitably have negative reviews, whether oversight or something else. When you encounter them, don't ignore them. Be courteous and don't fight back. If the comments are disrespectful or abusive, those you can ignore, however, if someone posts something that is a legitimate concern, answer professionally and always be kind.
Social media can be a powerful tool for your business. It is free, easy to use, and has the potential to reach a vast audience.
https://www.myoutdesk.ph/wp-content/uploads/2021/01/top-15-social-networks-banner.jpeg
321
845
Alvin Leveriza
https://www.myoutdesk.ph/wp-content/uploads/2022/02/mod-logo-small.png
Alvin Leveriza
2021-01-28 00:51:43
2022-02-28 16:51:49
Top Social Media Platforms & How to Best Leverage Them